The average homeowner may feel a little lost when it is time to get estimates from contractors. Not knowing enough about the equipment, not being told about the process, and sticker shock may lead to decisions that you can later regret. As HVAC split systems have an expected lifespan of 20 to 25 years, putting in a new system is a decision that will affect you for years to come. Demystifying the estimate will help give you a better handle on what to look for in an estimate from any reputable contractor.
License Number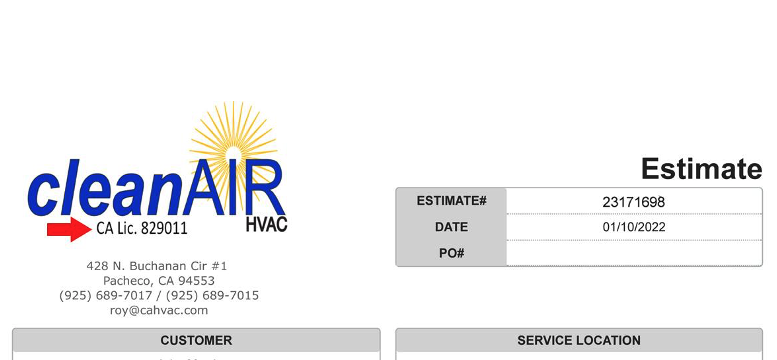 It goes without saying that a contract or estimate should have the contact information of the company clearly on the document. Just as important as a phone number or address, is the business's license number. This proves that they are fully certified by the State of California. Being licensed not only means that they have passed all required testing, but that they also maintain the correct bonding and insurance to protect any job that they perform.
If you want to look up a license number or check to see if a business is still in good standing, you can visit the California Contractor's State License Board website to see all relevant information.
Permit

In California, any home improvements over $500 should have a local permit pulled. Permits keep homeowners protected from unsafe or energy-wasting installations. If a permit is not a line item on your estimate, there is a good chance that your contractor is not pulling one. Always double-check that the proper permit procedure is being followed before signing a contract.
Equipment Details

An estimate should never say something along the line of "New Furnace" or "Air Conditioner" followed by a price. To get the best product for your home, look for the manufacturer, model number, and energy rating. All of those things will be relevant to getting the best for your home. If getting multiple bids for your project, the information will help decide where you can get the best pricing from.
Also, ducting is not normally included in a standard change out of a furnace and/or air conditioner. If ducting is a concern to you, have the estimator look at your ducting and quote for repairs or replacement of ducting too. Ducting does not need to be replaced very often so it may not be necessary.
The Finishing Touches

As with any contract, make sure to read the fine print. How long is the warranty? Will the old equipment be removed? Is a maintenance contract part of the agreement? Any questions or concerns you may have should be noted in the contract to ensure both parties understand where everyone stands.
If you have any questions about an estimate or would like a free one from Clean Air HVAC, please call us at 925-689-7017.